My
distaste for Disney California Adventure
Park is not something I shy from, but it may be something I abandon come June 15.
That's when the results of pa
rk's gigantic,

$1.1 billion
renovation
will open to the public
. This means the new Buena Vista Street, with its classic, 1920's Hollywood theme, and Cars Land, Radiator Springs and all, will open to the public.
It marks the final stage of a re-imaging of California Adventure that brought us The World of Color, The Little Mermaid, and the re-theming of Paradise Pier, all welcome additions what was a less-than-thrilling park on opening day a little more than 11 years ago.
It says a lot about the park's (lack of) original vision that Disney was willing to cough up over a billion dollars to do something for the underwhelming park.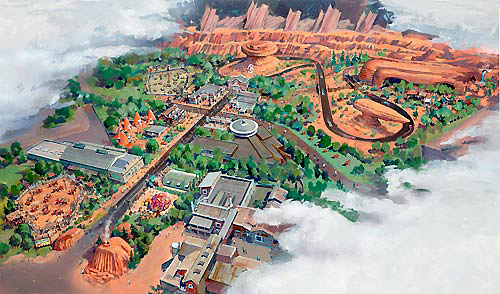 Personally, the only thing that's been there from day one that remains fresh is
California Screamin'
(the video was shot before the Paradise Pier makeover), which itself has had a design overhaul. I still stand by my statement that there is no place for a story-less river raft ride in a Disney park (That means you too, Kali!).
But alas, with the addition of Cars Land, the new Buena Vista Street, and everything else that has been added since the park's lackluster launch, The Disneyland Resort may actually become a two-day park, instead of a one-and-a-half day outing, where you visit California Adventure on your way to the airport.
I know I'm ready to be impressed with the new additions. How do you feel about them?